Revolutionary Air-Hub Management Software
Parcel Fly is an enterprise logistics management suite that enables retailers, logistics companies, governments and aid organizations to deliver goods by Air. The retail component allows companies to manage the point-to-point delivery of parcels by air to the customer's home.
Air-Hub

Management System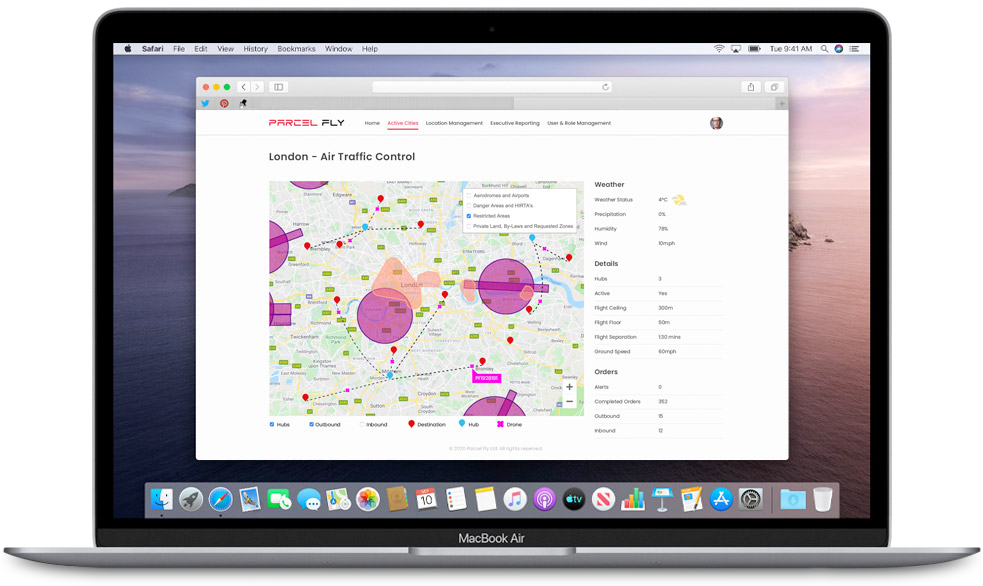 Our Air-Hub Management System facilitates end-to-end parcel logistics for companies in the functions of setup, management, control and integration to their existing network and technologies.
Parcel Fly software handles the delivery scheduling, UAV flight path & conditions, customer status & notification and logistics coordination of the UAV from take off to base return.
The Parcel Fly software scales and aims to make the availability of UAV-based aircraft, for the purposes of parcel delivery by air, available in every major city & to every difficult to reach area around the world.
Smart algorithms determine best route options
Integration into retail, logistics and route planning systems
Full configurability for UAV specifications and fleet specific options
Customer updates through white-labelled portals
The power of Air Delivery

Taken Further
Fully responsive design, reaching your customers on all platforms
Intuitive UI's have been designed to improve the delivery process
Same day delivery within as little as 15 minutes
Live updates and parcel tracking through the air
What would you like to know?